Dispatch 6
07/03/22
Summit Success for Team Tanzanite! We left high camp at roughly 1:30 and made the summit at 8:00 am. We had perfect conditions with very little wind and a sky full of bright stars. Congratulations to David and Lindsey on an outstanding summit! We would like to thank our summit team, head guide Bruce and assistant guides, Thomas, Sebastian, and Salim. Also many thanks to the rest of our team became without their help this would not be possible. We are resting now and heading down to lower and last camp soon.
Team Tanzanite
---
Dispatch 5
Team Tanzanite continues to be a gem of a team! We are now heading to high camp and will rest before leaving for the summit around 1:00 am Sunday morning. Everyone is healthy and enjoying the climb. Stay tuned for more updates.
Team Tanzanite on the way to the summit.
---
Dispatch 4
Jambo friends and family,
Team Tanzanite continues to be solid as a rock. We just climbed the famous Barranco Wall and we are on our way to Karanga camp.
Today is a shorter day than yesterday so we are looking forward to relaxing in camp this afternoon. Hello to everyone back home.
---
Dispatch 3
Team Tanzanite is doing great. We are on our way to camp 3 now. We have had some satellite trouble because of the clouds but everyone is doing well. Hi to friends and family back home. More later.
Team Tanzanite
---
Dispatch 2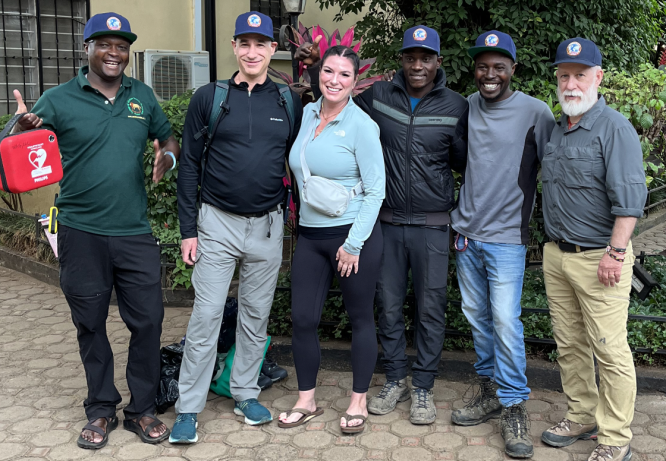 Jambo,
Today is the big day! We are off to climb Kilimanjaro! The most important decision has finally been made and that is our team name. We will be Team Tanzanite! Tanzanite is the rare gem that can only be found at the base around Kilimanjaro. Today's hike will take us through the rainforest on the lower flanks of Kilimanjaro and where our tanzanite gem and team name comes from.
Final packing is complete and we are ready to go. Everyone is missing friends and family back home. David and Lindsey are sending hugs to Samara, Maya, Lucca and Ellys.
Please wish us luck!
Team Tanzanite
---
Dispatch 1
J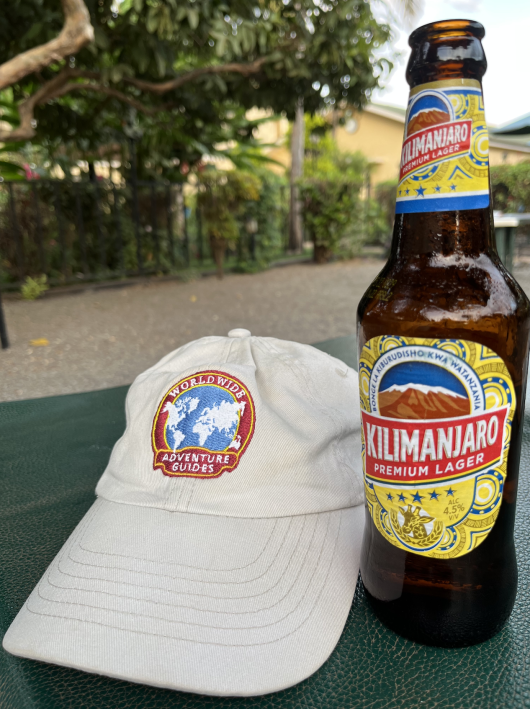 ambo Friends and Family,
Our 2022 Kilimanjaro climb and safari are finally underway. After the two year Covid break we are very pleased to be back in Tanzania seeing our old friends again. Everyone has been resting and getting ready for the climb tomorrow. Yesterday we toured the local hospital called KCMC.
Today we will meet our team and do a pre-climb briefing and finish our final packing. Once we are on the climb we will be using a satellite phone for sending the dispatches, so please know if you don't see one for a day or two that it's not an indication of any problems but the satellite connection.
Wish us luck and glad you are following along on our adventure.
The WAG Team