Kilimanjaro 2017
---
Ngorongoro Crater
July 2, 2017
Jambo,
We're back at our hotel in Moshi after two more amazing days on safari game drive. It's hard to remember all the animals we saw in the Serengeti before leaving the park - the rare crocodile, many more lions, hippos, cheetahs, birds birds birds, gazelles, elephants, giraffes, hyenas, jackals, cape buffalo, wildebeests, hartebeests, topis, impalas, dik diks, mongooses, zebras, warthogs, and so many more amazing creatures.
After leaving the Serengeti we drove a couple hours to the Ngorongoro Crater. The crater is a sunken mountain roughly 9 miles by 11 miles in size. Once again our safari master, Madeal, made the magic happen. We had the good fortune to spend over an hour watching the elusive Black Rhino within 50 meters of our jeep with only one other jeep nearby. Okay, we can now say we saw the Big Five.
Today we are packing and preparing for our long journey home. We all will miss our friends here, but we are very much looking forward to seeing family and friends again back home. Thanks for following along on our adventures.
Peace, The WAG team.
---
Serengeti Days
June 28, 2017
We are on our second day in the Serengeti enjoying our game drive. Our excellent guide Medeal has not disappointed. Yesterday during our drive to the Serengeti we visited a Masai village and the Oldupai Gorge, the cradle of civilization. In the afternoon we saw lions, a leopard in a tree with a kill, giraffes, thompson gazelles, wort hogs, reed and hartebeest, and the birders in the group ticked off too many to mention.
Today we got an early start and had an opportunity to get closer to a male lion than anyone would have believed. There were three brothers together. It's rare for the males to hunt, but we saw one of the males stalking a wort hog. Fortunately, for the wort hog, the lion decided not to attack. Soon after seeing the male we came upon the lionesses in the pride with roughly 15-20 cubs. We also had the good luck to see two cheetahs looking for prey. What an amazing two days so far and we still have much more to come.
---
Safari in Lake Manyara National Park
June 27, 2017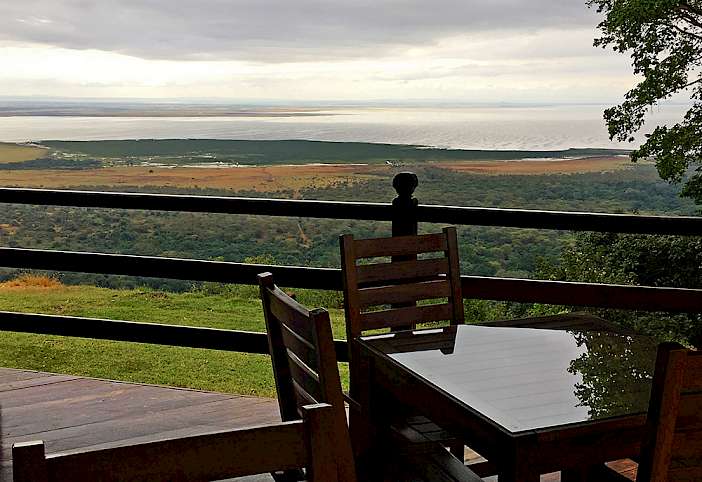 Jambo, Today we had a wonderful safari in Lake Manyara National Park with our good friend and safari guide Madeal. We were lucky to see two of the big five today, the water buffalo and elephant. One elephant was close enough to touch and we felt like we were communicating with him. But we were just as amazed by the menagerie of colorful birds, baboons, lizards, blue monkeys, wildebeests, impalas, even fox. Tomorrow we head for the Serengeti and more safari adventures. We're missing our teammate Vandana and wishing her safe travels. Stay tuned for more safari news.
---
Day 6: And now for Safari
June 26, 2017
Team Nyegere is safely back in Moshi enjoying hot showers and cold beers. Our day started this morning at Mweka camp and we had a beautiful five hour hike through the rainforest to finally arrive at the park gate. After arriving at our hotel we had a joyous celebration with our African team and everyone received their summit certificates. Although we are very tired we have enjoyed this physical and emotional journey. It tested us in many ways, but in the end it was most rewarding. Tomorrow we head off on our safari adventure. Sadly we will have to say goodbye to our team member Vandana because she is heading to meet her husband John in Amsterdam for another adventure. We thank everyone for their support during the climb. Trust me, we could feel the positive energy. Stay tuned for more safari adventures. The Wag Team.
---
Uhuru Point
June 25, 2017
Momma we made it!
It's with great pride and joy that I report to you that we all made it to the summit (Uhuru Point, 19,341 ft)! What an incredible journey. We left camp this morning at 1:20am, and made it to the summit 8 hours later at about 9:20. The weather was cold but clear, offering us a spectacular view. Everyone did great. A special thanks to our guides and our crew, who helped to carry our gear this whole trip. Couldn't have done it without them!
Now, we've descended to Lower Camp and will make our final trek to the base tomorrow.
Team Nyegere, headed down! Until next time
---
Day 5: High Camp
June 24, 2017
Jambo!
Team Nyegere is at High Camp, preparing for our final push to the summit! We made it in to camp in just under four hours and have been resting up for the long night/morning ahead. We'll be getting up at midnight and begin our ascent to the summit around 1am. We should reach the summit around 8am.
The sky is clear, there's no wind, and the stars are incredible: the perfect summit conditions. As always, sending our love to everyone back home! Until next time!
---
Barranco Wall and Karanga Camp
June 23, 2017
Jambo Friends!
Today we scaled the 1,000 ft high Barranco wall. The trek was tough--lots of scrambling across boulders and steep trail—but the stunning views from the ridge at the top made the climb well worth it. From atop the ridge, we gazed down at the clouds, now well below us. It was almost as if you could just walk off the ridge and onto them! We enjoyed our little break at the top, taking in the view and snapping lots of pictures to share with you all back home.
Our hike after that consisted of three big up and down legs, crossing through another alpine desert, before finally making it to Karanga camp (13,100) after the final steep leg. Although our final elevation didn't change much, we covered a lot of ground today, and continue to become better acclimated to the elevation.
We're all still in great spirits, passing the time playing cards and laughing a lot. The weather is still great, although the temperature has dipped as we continue to gain altitude-- good thing everyone got themselves nice jackets before the trip!
Tomorrow we head up to High Camp, and spend the afternoon and evening resting up before summiting tomorrow night!
Wishing everyone back home all the best! Until next time.
---
Kilimanjoro Lava Tower and Barranco Camp
June 22, 2017
Jambo!
Day 3 and Team Nyegere is still blazing up the trail! Our spirits are as high as our elevation—over 15,000 ft up today. After a great morning hike, we stopped for lunch at the Lava Tower (15,088ft), which afforded us an incredible view of our surroundings, and for many of us marked the highest point we had ever reached (yet). After lunch, we hiked down to Barranco Camp (13,000 ft), finishing up a long day on the trail with some delicious dinner...and a special treat, courtesy of Dave's mom.
The Haight girls want to say Hi to their mom, Joan. Dave and Nancy are missing their family and wishing them all well. Vandana says hello to all her freinds an family back home. And the whole team wants to give a BIG Thank You to Dave's mom for some incredible Smith family recipe peanut brittle. It was spectacular, and such a sweet treat at the end of a long day.
Tomorrow, the team heads up to the Barranco Wall. Until next time!
---
Kilimanjaro Shira Plateau Camp
June 21, 2017
Jambo!
Team Nyegere had another wonderful day on the trail, hiking up to Shira Plateau Camp (12,000 ft). Today's trek brought us out of the rain forest in the morning and into some new and stunning terrain. We passed through the Heath Zone and Moore Zone, on our way to the Plateau, which is an Alpine Desert—making our way through a botanical garden and then climbing through rocks to camp! What a change! Now we're camped almost above treeline, with an incredible view of the mountain and surrounding area.
After making camp, we took a small walk over to the Shira Cave, and are now having some tea while waiting for dinner. The weather has been beautiful, but as the day progressed a slight breeze swept in and temperatures have dipped a bit.
Team Nyegere sends it's love, and hopes everyone at home is doing great and wish them well!
---
Kilimanjaro Machame Camp
June 20, 2017
The team is feeling good after completing our first day on the trail! We've made it to Machame Camp (Elev. 10,000 ft) after a beautiful hike through the rain forest—even spotting a few Blue Monkeys at the start of the climb!
Making it to camp with a hike time of just under 6 hours, our team has settled in and enjoyed a great first meal on the trail. Everyone is in good spirits and we're making it through with plenty of laughs.
---
Team Nyegere
June 19, 2017
Jambo,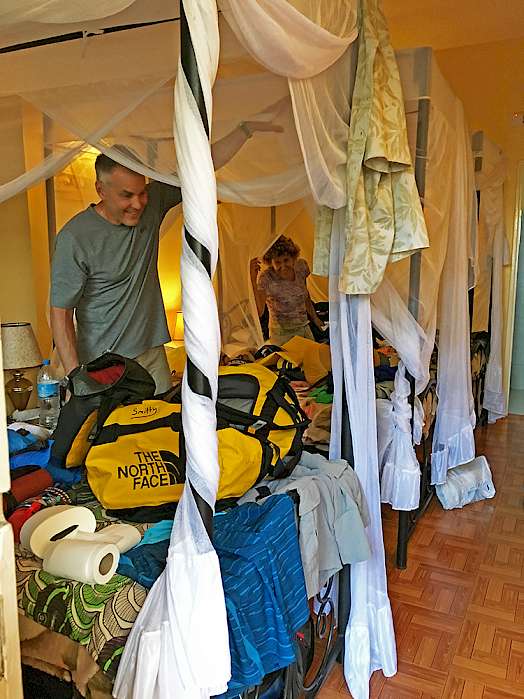 Okay, we have decided on our team name for the climb — Team Nyegere in Swahili (Honey Badgers in English). Our nickname will be BAHB for 'Bad Ass Honey Badgers'!!! This morning we took an amazing tour of Moshi Town and saw everything from women with babies on their backs tending rice fields (while texting) to market vendors with every variety of spice, plant, animal and shoes made from tires. This afternoon we are meeting with our old friend and head African guide, Bruce and his team.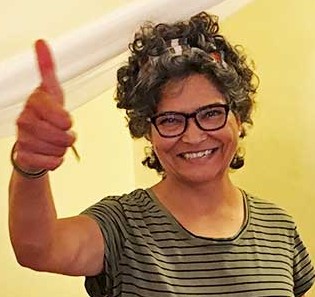 The team has been busy preparing for our climb tomorrow. We're enjoying our final day to relax and do last minute packing. We are all excited and healthy and ready to go. Jeanne and Ralph say hello to Kate and Laura. Dave and Nancy say hi to friends and family. Vandana wishes the universe well. Barbara and I are enjoying showing everyone one of our favorite places.
The Wag Team
---
Father's Day Start in Tanzania
June 18, 2017
It's a beautiful Sunday morning here in Moshi, Tanzania. Happy Fathers Day to our fathers! Everyone arrived safely last night after many hours of travel. Maybe a bit tired but excited for the coming adventures.
Today after breakfast we toured the Kilimanjaro Christian Medical Center with a local medical doctor. The medical center has a close affiliation with Duke University back home. Always good to have friends from home. Afterward we'll do a local city tour and see the colorful market full of lively activity and fresh vegetables, spices, and fruits. Our main goal today is just to relax and recover from jet lag and maybe get a massage, sit by the pool, eat some good food, and have a few glasses of wine or beer. It's good to be on vacation. We hope everyone back home is well.
The WAG Team
---
Gearing up for Kilimanjaro
Jambo (Swahili for Hello!) friends and family,
Our June Kilimanjaro climb and safari will soon be underway. Everyone is excited and busy packing and getting last minute items for the trip. After flying roughly 24 hours we'll meet up in Moshi, Tanzania on June 17th and have a few days to rest, sightsee and recover from jet lag before beginning our climb.
We have a fun team of longtime friends and family coming along on this adventure - Jeanne and Ralph, Nancy and Dave, Vandana, Barbara and myself, plus a first-rate team of local African guides and porters.
Once again we will be doing the Machame Route (AKA the "Whiskey Route"). We'll take seven days to traverse about two-thirds of the way around the mountain, hiking through five diverse ecosystems. We'll start in the dense rainforest, hike through the heather, moorland, alpine desert zones, and finally reach the arctic zone on the summit. After the climb we'll have a day to rest, drink cold beers, and shower before we start the safari.
Please follow along with us!
Asante sana, (Swahili for Thank You)
Shane and the WAG team.