Dispatch #4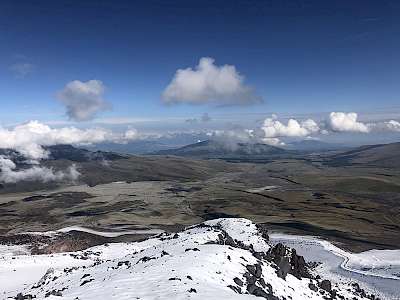 Climbing mountains are hard and sometimes the mountain wins. We gave it one hell of a try, but the summit of Cotopaxi was not to be this time. Most importantly, we all came down from the mountain in good health and good spirits.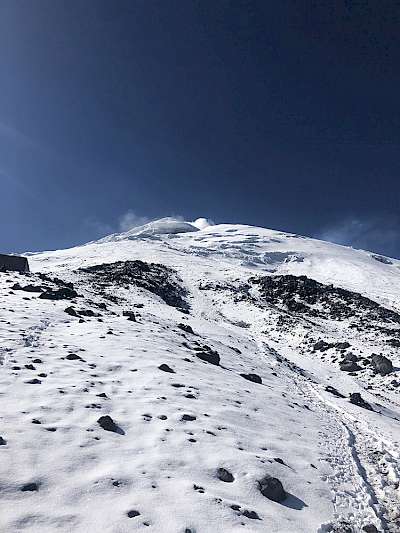 It was once said, the best climber is the one having the most fun. There is no doubt that we are having a fun time together. One of the beautiful things about climbing mountains is the lifelong bonds you develop with those you climb with and the places you visit. You may not always get to the summit, but you often gain much more in the process, and that is a big win in my book.
We're now is Banos,a charming town, enjoying the good food, showers, and beds. We'll hang here for a few days before making our way back to Quito and our flights home. We're all missing our families and friends back home.
Thanks for following along.
Dispatch # 3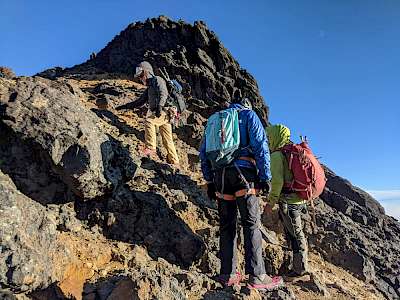 We had a successful climb on Illiniza Norte at 16,818 feet. We summited in fine shape in excellent time. The weather conditions were perfect - cool and slightly overcast and the views were outstanding. After getting back to Rocio's we all took much needed and well deserved naps. Afterwards the team consensus was to go get local steaks again. With full bellies and tired bodies we were all soon fast asleep.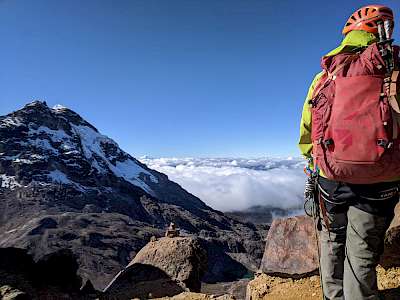 We're now rested and packing for our next climb of Cotopaxi at 19,342. We'll head up to the refuge hut for a short night and head for the summit around midnight. It'll take us roughly 6-7 hours to reach the top.
Everyone says hello to friends and family back home. Thanks again for following along.
The WAG Team
Dispatches 1 & 2
Everyone arrived in Quito, Ecuador in fine spirits ready for adventure. After a good nights rest and a filling breakfast we tackled our first objective for the trip. We wanted to get some altitude gain to help us acclimatize. We took a cable car up to the Telefonica at 13,000 and then hiked up to 14,400. Everyone did well for the first day. The day ended with delicious local steaks.
Once again we are staying at our old friend Rocio's hacienda. It's great to see her and family again. Our objective for day two was to climb Rumiñahui at 15,375. After a misty morning the weather cleared and we had perfect conditions to the summit. It was a long day, but everyone was pleased to get the first summit under our belts. Today we're off to climb Illiniza Norte at 16,800. Everyone is feeling good and looking forward to spending a couple of days in the mountains. We hope everyone at home is well. Thanks for following along. Gracious, The WAG Team Sent from my iPhone