Kilimanjaro 2016 Dispatches (team 2)
Multi-day Update
September 3, 2016
Jambo!
WOW! We have had an amazing five days on Safari.
Our first stop was Lake Manyara National Park where we saw hundreds of baboons and herds of elephants right next to our jeep, wildebeests, monkeys, and many exotic birds. We over-nighted in my favorite hotel that has a stunning view of the lake below. Lars and Melanie had quite the surprise when a large baboon came into their room and stole a roll from their lunchbox. Lars apparently (and involuntarily) produced a yell that scared the creature away.
The next morning we drove to Serengeti National Park. We stopped along the way to visit a Masai village and then on to the Olduvai Gorge, one of the most important paleoanthropological sites in the world. Some of the oldest human remains were first discovered here by Mary and Louis Leakey.
We spent the next two nights in the Serengeti tent camping in the bush. It was otherworldly to hear lions and hyenas during the night.
The Serengeti did not disappoint. We were lucky to see several lions sleeping and eating right next to our jeep. At one point a herd of elephants came to a watering hole and ran a pride of lions away. Even some hippos got into the mix. We later saw cheetahs with cubs. A large bull elephant approached our jeep and nearly charged us. A bit further away, a leopard had dragged a recent kill into a tree.
The next day, Lars, Melanie, and Randy took a sunrise balloon ride. It was a spectacular experience. Afterward, they had a delicious champagne breakfast under a tree on the open plains of the Serengeti.
Yesterday we spent the day in the Ngorongoro Crater. Within a very short time we saw the elusive black rhino. It's very rare and we were especially fortunate to get very close. Another very rare event was getting to see a male and female lion mating several times. It's quite a dance. The large male follows the female around until she's ready. Then she circles him quickly 3-4 times, letting him know she's ready. Then it happens, right there in front of us.
Our safari has been a huge success and everyone is very happy to have seen the big five. Yesterday evening was spent relaxing in front of a warm fire at the Ngorongoro Wildlife Lodge, having drinks and recapping the day's highlights.
Today we made a stop at the famous Gibbs Coffee Plantation for a cup and a tour. This afternoon we start heading back to Moshi for our final few nights in Tanzania before starting our journeys home.
Thanks for following along!
Shane, reporting for Team Tembo
---
Moshi Town
August 30, 2015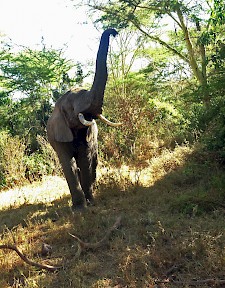 Jambo!
Team Tembo is safely back in Moshi Town. We had a fun ceremony with our local climbing team that included speeches, singing, dancing, and many beers. Everyone is nearly unrecognizable this morning after showering and sleeping in real beds.
Today we leave for Safari. First stop Lake Manyara National Park.
We're thinking about you all back home!
---
Kilimanjaro Summit
August 28, 2016
Team Tembo reached the summit of Kilimanjaro (Uhuru Point, 19,341 ft) this morning. Randy, Melanie, Lars, and myself summited at 7:01 am. We had excellent clear and chilly weather at the start of the climb. The winds picked up a bit as we got higher.
The team couldn't have done it without our old friend and African guide Bruce and his outstanding assistant guides, Sebastian and Gilbert. We also want to thank the rest of our crew for all their hard work carrying gear and keeping us hydrated and nourished, protected from the elements at night, and in good spirits.
The team is back at Barafu High Camp now resting for a couple of hours before a quick lunch. Then we'll head down to Millennium Camp for our final night on the mountain. We're all looking forward to cold beers, hot showers, and rejoining with teammate Todd to start our five day safari.
We hope everyone is doing well back home! Thanks very much for following our climb!
Team Tembo, Heading Down!
---
Barafu High Camp
August 27, 2016
Jambo!
Team Tembo has arrived at Barafu High Camp. Everyone is feeling good. We're resting and getting ready to go for the summit tonight. The weather is perfect currently and we hope to have a clear windless night. Hopefully our next dispatch will be from the summit. Wish us luck!
---
Karanga Camp
August 26, 2016
Jambo!
Greetings from Karanga Camp. It was a beautiful day and the weather was perfect to come over the Barranco Wall. We were the last to leave Barranco Camp this morning which meant we had the wall completely to ourselves- really special and fun. We walked and scrambled and made it to camp in good time.
Everyone is hydrating, eating, and resting. We're looking forward to tomorrow when we move up to our highest camp and get ready for summit day.
Team Tembo is doing well and hopes everyone at home is doing well. Lars and Melanie say hello to the kids and hope they had a good first day of school.
Stay tuned as we go onward and upward!
XOXO
Team Tembo
---
Barranco Camp
August 25, 2016
Jambo!
We reached Barranco Camp (13,000 ft) this afternoon after a great day of climbing. It was cool and skies were clear. We had lunch at the Lava Tower and Lars and Melanie climbed to the top (15,000 ft) for spectacular views. Then we all descended to Barranco Camp.
We've had a nice dinner and we're resting up for the Barranco Wall tomorrow. The sky is amazing- clear and full of stars.
We're very sorry that our teammate Todd had to go down. He was fighting a virus at the beginning of the trip that became too exhausting on the climb. He's safe and sound at the hotel and planning some adventures of his own over the next few days. We all miss him and look foward to meeting back up with him for the Safari.
Team Tembo is doing well and missing the folks back home.
Onward and Upward!
---
Shira Plateau Camp
August 24, 2016
Jambo!
We reached Shira Plateau Camp (12,000 ft) today at about 1pm.
We had a great day. It was sunny and warm and everyone did well. We've had a big lunch and are having snacks and tea now—eating enough is a full-time job at altitude. It's beautiful up here on the Plateau with fantastic clouds below.
Wishing everyone well back home!
Onward and Upward!
Team Tembo
---
Machame Camp
August 23, 2016
Jambo!
Team Tembo made it to Machame Camp (10,000 ft) this afternoon. We started this morning from Machame Gate and hiked for 6-7 hours. Everyone is doing well. The weather was perfect!
Lars and Melanie say hi to Angus, Ingrid, and Jim. Randy says hello to anyone who cares. Todd just says hello!
Onward and Upward!
Team Tembo
---
Team Tembo: Group Two Arrives
August 22, 2016
Jambo!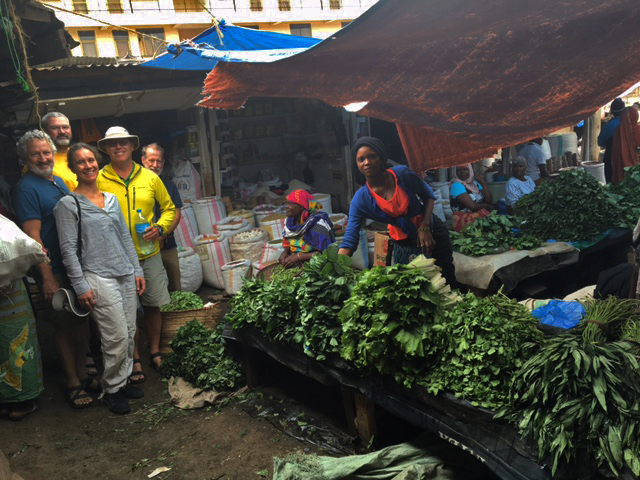 Everyone has arrived safely in Moshi and is acclimating before the start of our climb tomorrow. We toured Moshi Town today after breakfast today and visited the central farmer's market. We had coffee and tea in a popular local spot and picked up a few souvenirs.
We just finished our climbing briefing with the Tanzanian climbing team. Once again we'll be in great hands with my old friend Bruce as head guide and his excellent team. We leave early in the morning and are finalizing our packing for the mountain now. After some discussion we agreed that our team name should be Team Tembo (Tembo is elephant in Swahili).
Wish us luck and check back for updates.
All good things,
Shane
Team Tembo
---