Everest Base Camp Trek 2018
---
Friday October 19th - Kathmandu
We are all back in Kathmandu now enjoying hot showers, sleeping, massages, touring, and shopping. Tonight we will have a celebration dinner at Jetha's home with his wife and youngest daughter. Tomorrow everyone starts heading home. Thanks for following along on our adventure.
Namaste,
The WAG TEAM
---
Wednesday October 17th - Lukla
Everest Base Camp is now well in our rearview mirror. We are all safely back in Lukla celebrating with thicker air and beers. Hopefully, the weather holds and we can fly out tomorrow morning. It was great being back in the Khumbu Valley and seeing old friends again. Thanks to Jetha and crew for helping make our adventure a success. We couldn't have done it without them. We're all looking forward to being back in Kathmandu and getting hot showers.
Namaste,
The WAG TEAM
---
Monday October 15th - Pangboche
We are slowly moving back down from the big hills. We had a beautiful walk down from Loboche to Pangboche today. We stoped again at our friend Moti and his wife tea house. We were pleased to see one of their sons Lakpa who was home on school break from Kathmandu.
He has grown at least a foot or more since the last time we saw him. We had tea and snacks, and before leaving they presented everyone with a ceremonial Kata around our necks. It's a fine white cloth much like a scarf and it celebrates a long and healthy life.
Tomorrow we head down to Namche again. All is well and we are enjoying the thicker air. Peace to all,

The WAG TEAM
---
Sunday October 14th - Everest Base Camp Success!
Under perfect blue skies we made it to Everest Base Camp today. It took us just under 2 hours to get there which is an awesome time for any group, but this group has an average age of 60.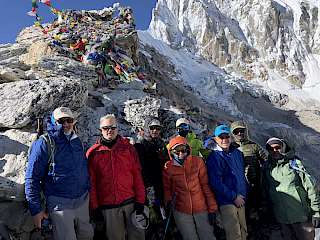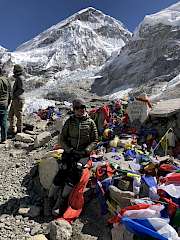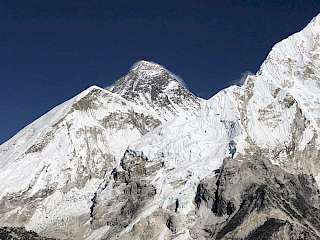 We stayed at EBC for about an hour. A few of us walked down and touched the Khumbu glacier. After an even quicker walk back down to Gorak Shep we had a filling lunch and started hiking down to Loboche. We all now here eating popcorn and drinking tea. Tomorrow we head we head down to Pangboche for the night.
Sorry for no pictures yesterday. Our internet connection let us send the dispatch but no pictures. They're included today.
All the best.
The WAG TEAM
---
Saturday October 13th - Loboche to Gorak Shep
Today was a big day starting early, in Loboche, and we made it to Gorak Shep in about 3.5 hours. Gorak Shep at 17,000 feet might be the highest village in the world. After a brief stop for tea and roasted potatoes we started the climb up Kala Pather. In about 2.45 hours we reached the summit at 18,187 feet. Winds were blowing at 25 mph not including gusts. We took the team picture and headed down. Tomorrow we head to Everest Base Camp and then back to Loboche for the night. We all hope everyone is well back home. The WAG TEAM
---
Friday October 12th - Dingboche to Loboche.
Today we moved up to Loboche at 16,000 feet. Everyone is feeling good.
After a short hike up a steep hill we walked along a gorgeous plateau and our 360 degree views were breathtaking.
Several hours later we crossed the river and stopped for lunch at Thuckla cafe. Soon our rest was over and we climbed the last steep hill of the day. At the top is a memorial area for those that have lost their lives on Everest and other nearby Himalayan peaks.
After another couple of hours we arrived in Loboche for the night. Laura says hello to John, the kids, and grandkids and Vandana says hi to John. Thanks for following along.
The WAG TEAM
---
Thursday October 11th - Dingboche
Today was an active rest day. We hiked to about 15,500 feet to gain a bit more altitude to help with our acclimatization, in keeping with the old mountaineers adage —climb high, sleep low. We had stunning views in every direction.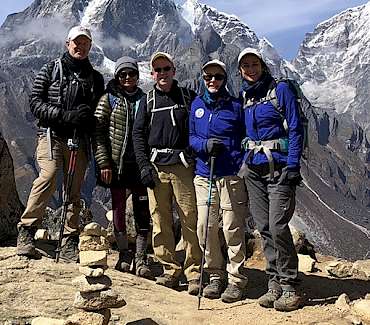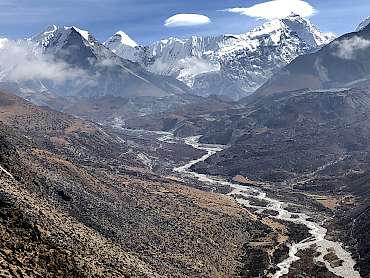 After our four-hour hike we had a filling lunch and then some of us walked to a local bakery for a movie being shown on a tv. More than one of us fell asleep during the show. Others played cards, read, or napped. Overall, it was a great day in the Khumbu Valley. Tomorrow we head up to Loboche.

All good things,

The WAG TEAM
---
Wednesday October 10th - Pangboche to Dingboche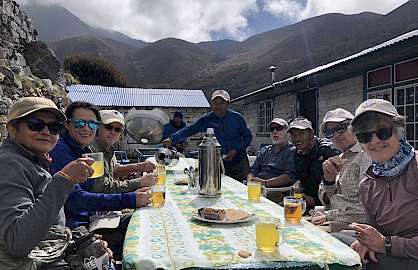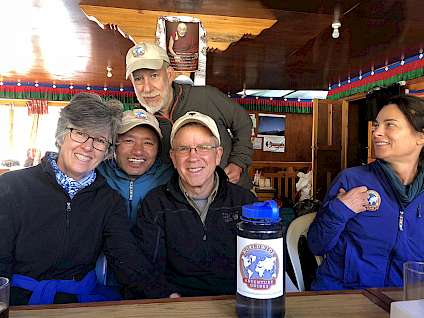 Today was a shorter day than yesterday, but very exciting. After leaving the tea house of our old friend Tashi, Lama Sangay, and their very adorable eight-month-old baby, we hiked for another hour and stopped at the tea house of our friend Moti and his wife Juneli.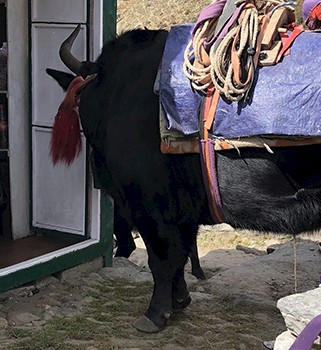 While we were sitting outside enjoying tea and cookies, we witnessed a Yak trying to enter their small store. After we shooed it out of the store he turned the corner abruptly, breaking the store window. We decided it must really have needed a coke. Later we joked it was as clumsy as a "Yak in a snack shack."
We then crossed the river and climbed the final hill of the day and made a gradual decent into Dingboche.
We thought you might want to see the rest of our team. The four guys are our extremely strong and nimble porters. The picture of two guys is our old friend and Nepali guide Jetha on the right and Manbahadur, our assistant guide, on the left.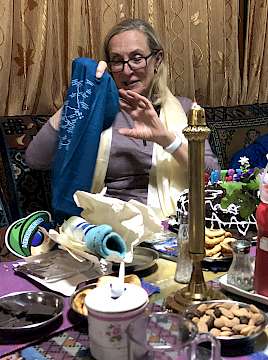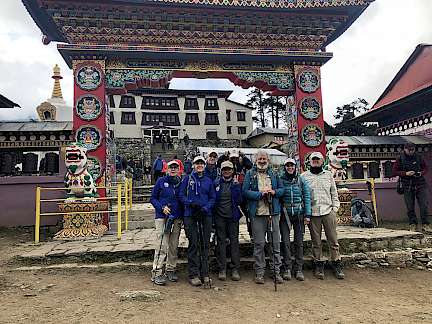 Tomorrow is another well-deserved rest day. Oh, we forgot to mention we had a birthday celebration on the 8th. You can see Laura with her cake and loot! Happy Birthday Laura!
Namaste,
Team WAG
---
Tuesday, October 9th - Namche to Pangboche
We had amazingly blue skies today as we were surrounded by all of the incredible peaks offered by the Khumbu Valley, with Everest being the definite highlight. About halfway through the trek, we visited the Tengboche Monastery, the home to many Buddhist monks and where several of us received a special blessing. We are currently in Pangboche eating a fulfilling meal before we head to bed.
Please know that as we ascend, the internet connection will become more challenging and posts may be delayed. So, keep in mind that if you do not see a post for a day or two, it doesn't necessarily mean that something is wrong. Wish us luck!
The WAG Team
---
Sunday October 8th - Namche Bazar
Today was an active rest day. After breakfast we took about four hours to visit the memorial of Tenzing Norgay Sherpa who was with Sir Edmund Hillary on the first climb of Everest in 1953, the Everest View Hotel for tea, the village of Khumgung where Sir Edmund Hillary started the first school in the Khumbu Valley, and back to our hotel for lunch.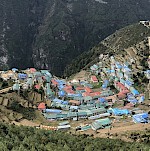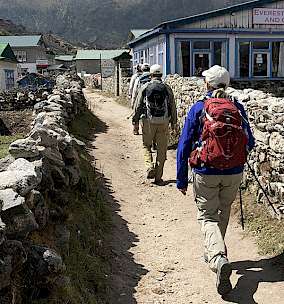 We still had some clouds today, but when they cleared the views were spectacular. After lunch a few of us walked into town to look around while the rest took showers or napped or both. Tonight we will celebrate Laura's birthday. After another good night's rest, tomorrow we leave Namche and head to Pangboche. Best to all back home.
The WAG TEAM.
---
Sunday October 7th - Phakding to Namche Barzar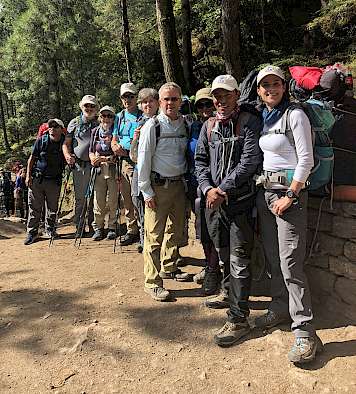 After a very restful night we started the long climb up to Namche Bazaar.
The climb is up and down until you cross the highest suspension bride in the Khumbu Valley - roughly 500 feet above the river - and then the real climbing begins. After a couple of hours we finally arrived in the magical town.
Today's highlights included no rain, excellent views of the high peaks, stopping for a leisurely lunch, Jeanne being attacked by a rooster, entering Sagarmatha National Park, but most of all, after a long day, everyone was ecstatic to arrive at the wonderful Panorama Lodge.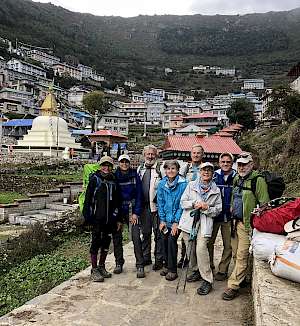 Everyone says Namaste (the spirit in me greets the spirit in you) and glad you're following along.
The WAG TEAM
---
Saturday October 6th - Lukla to Phakding
Today was the classic hurry up and wait. As you can see some of us found ways to pass the time.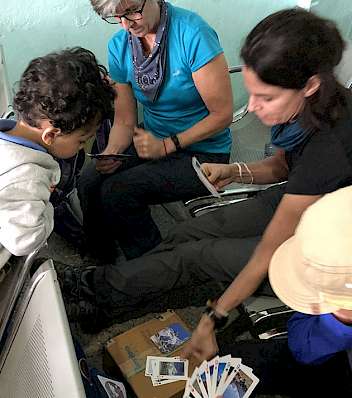 Jeanne, Barbara, and Vandana played cards with a very cute and curious onlooker. Others paced, napped, chatted, or read. Finally, after about fours hours, the skies cleared and we were off into the world's highest mountain range. We landed safely at Lukla on the infamous uphill runway.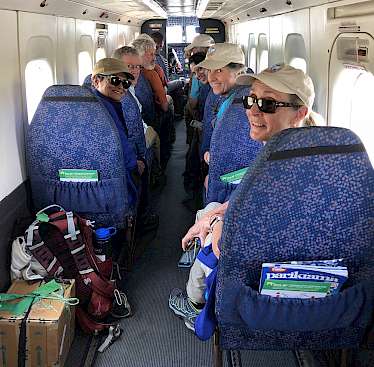 After lunch we started the trek. The weather was perfect, then misty, by the end it was raining, but we were close to our tea house inn in Phakding. We're now having tea, snacks, ordering dinner, and then heading off the bed to rest up for tomorrow.
Thanks for following along.
The WAG Team
P.S. It is great to be back in the Khumbu Valley again with our old friend and trekking guide Jetha and his cousin, our assistant guide Man Bahadur and a cheerful group of porters, Sanjip, Tamang, Sarkee Sherpa, and Bakbir.
---
Friday October 5th - Kathmandu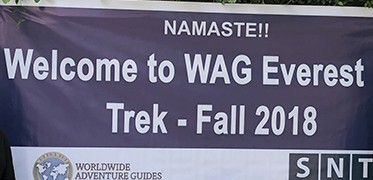 Namaste! The Everest Basecamp Trek Team arrived in Kathmandu yesterday after many hours of travel. Brian traveled from California with his sister Laura, from Chicago. Randy came from Hampton, Virginia and Jeanne and Ralph came from Charlotte, NC. Vandana, from Durham, NC (but who's been traveling for 2 months) arrived from India. We spent most of the day relaxing and enjoying a few Everest Beers.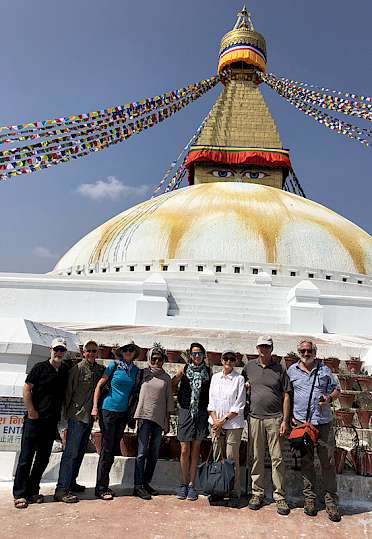 Today we toured 3 world heritage sites in Kathmandu. The first was Swayambhunath (Monkey Temple) with it's Buddhist and Hindu temples and thousands of playful monkeys. Next was the charming village of Bodhnath, home of Tibetan exiles and one of the world's largest stupas. Then we headed to Pashupatinath, a most important Hindu temples and the only crematorium ceremonial site Nepal.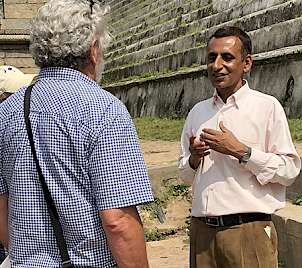 In the afternoon we had lunch in Thamel and toured Durbar Square. We had a sighting of the Living Princess, which is supposed to be most auspicious. We're back at the Yak and Yeti this evening for a gear check. We head to Lukla tomorrow to begin our trek.
Greetings to everyone.
The WAG Team